Click Image to Enlarge
Aerotek 40V Lithium-ion Cordless Telecopic Chainsaw with Battery and Charger
Now Just: £169.99 (was £179.99)
40V Lithium-ion battery – With just one 40V rechargeable lithium-ion battery, you get the same cutting performance as a corded or petrol chainsaw, without the hassle.
Extra-large cutting length – The 203mm cutting length lets you cut through branches quickly and more effectively
Large oil tank – The large 60ml oil tank means less time worrying about the oil level and more time cutting down branches
Lightweight – At only 3.85kg the chainsaw is lightweight and comfortable to use
Cordless – With no leads to restrict you or get tangled up in, you can carry out jobs wherever you need to
Telescopic – Cut up high with ease with a telescopic range of 2.45 – 3.05 metres
Out of Stock
Description
If you're fed up with having different batteries and chargers for all those different garden tools, then we have a solution. We have designed our quick charging battery to work with the whole Aerotek Garden Power Range.
No extension cords, no petrol, no fuss
There is no need to spend ages filling up a tank up with petrol, devoting time and effort to maintaining an engine and no messing around with potentially dangerous cords, thanks to our powerful, cordless hedge trimmer. Simply pop in the powerful 40V lithium-ion battery and at a press of a button you are ready to go. This innovative battery will give the same performance as petrol or corded garden tools, without the hassle. The battery even has a handy indicator light allowing you to see exactly how much life is left. One full charge will give up to 45 minutes usage.
Spend less time working and more time relaxing thanks to the extra-large 203m cutting length, that will let you cut through branches quicker and more effectively. There is also a large 60ml oil tank, meaning you don't have to worry about topping the oil up as often. The telescopic range of 2.45 – 3.05 metres allows you to trim up high with ease, great for getting to those hard to reach areas.
Thanks to the cordless nature of this chainsaw there is no need to worry about being connected to a power source or accidently tripping over an unruly cable, giving you the freedom to work anywhere you may need to. Whilst you're hard at work you can enjoy using this model as it comes with a comfortable shoulder harness.
To top it all off, the brushless motor cuts down on maintenance completely, meaning once you've finished making your garden look great, you really have finished.
Included in the box is one Aerotek Chainsaw with blade guard, a 24-month warranty and full instructions.
Please note: This product is not supplied with a 40V battery or charger, these are available to purchase separately. Once purchased the 40V battery and charger are compatible with our entire Aerotek Garden Power Range.
Also available to purchase separately is a spare chain for your chainsaw.
Specifications
Telescopic range: 2.45 – 3.05 meters
Dimensions: L(240.7 – 295.3) x W11.7 x H16.8cm
Weight: 3.85kg
Voltage: 40V DC Brushless motor
Battery capacity: Li-ion 4,0AH
Sprocket speed: 3500rpm
Chain speed: 5.5m/s
Oil tanks capacity: 60ml
Bar length: 20.3 cm
Charge time: 75min/110min/115min
Delivery Information
Delivery on this product is available to most UK Mainland addresses.
Returns
We take every care to ensure that you receive the correct goods in perfect condition. In the unlikely event that you ever need to return any item to us and it is within our 30-day warranty period then please contact us for a returns authorisation number. Our customer service team will then provide you with our returns address.
All goods must be returned via recorded, insured method at your own cost. We cannot be held responsible for returns parcels lost in transit. It is the sender's responsibility to ensure parcels are adequately insured. If the goods exceed £46 in value we strongly suggest that you take out additional insurance. In order that we can satisfy your requirements promptly we will need your full instructions, explaining the reason for the return and the action you wish us to take.
Videos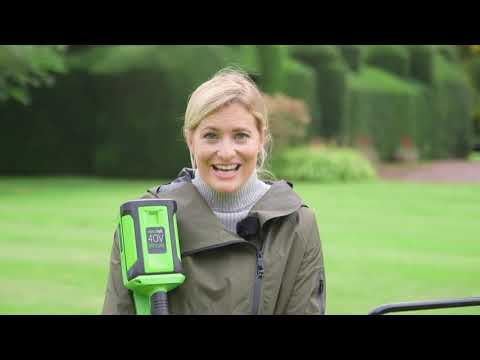 Play Video
Sheducation
Natural Wood Characteristics
Natural Wood Characteristicts
As wood is a natural material it may be affected by the following:
Shrinkage & Warping
The timber used in the construction of your garden building will have retained some of its natural moisture content. The moisture content of the timber will vary, depending upon prevailing environmental conditions, which will result in the components either naturally expanding or contracting. As the components dry out shrinkage may occur. A good waterproofing treatment from the start is the best protection to minimise the effect of moisture loss/intake.
Damp & Mould
During the winter months, cold and damp conditions can result in an increased amount of moisture within your garden building, especially when used infrequently. Condensation can form on the timber and other items stored within your garden building. If left this moisture is likely to cause mould and mildew. To prevent the build-up of moisture, we recommend leaving the door or windows of your building open from time to time, to allow the fresh air to circulate. We also advise against storing wet or damp items in your garden building as this will also increase the level of moisture in the building. If mould or mildew does start to form within your building we recommend using an anti-mould cleaner to remove it and to prevent it spreading, which if left untreated could permanantly damage your garden building.
Splits, Cracks & Knots
Small splits and cracks in some components or holes may appear where knots shrink and fall out. This will not affect the structure of your garden building however if you wish to fill them this can be easily done using any good quality wood filler
Sap
Sap is naturally occurring in wood and may appear in some boards of your garden building. If you wish to remove the sap, we advise waiting until it is dry and then using a sharp knife to carefully remove it. If the removal of the sap causes a hole in the timber, we recommend using a good quality wood filler to fill it.
Please be aware that these are natural timber characteristics which in most cases will not impact the structure or function of the garden building, therefore are not considered as product defects (as outlined within our Terms & Conditions). If you require further advise or information please contact our friendly Customer Services Team.