Having a man cave is the dream of many men. Have you always wanted a space of your own? A man cave where you can indulge your hobbies, kick back and relax with friends, and turn up the bass on your sound system?

If you have space for a shed, or even have an existing shed, you can have it. And what better place than an underused garden shed? With a solid foundation, damp-proofing, heating, power and security, your shed can be turned into a warm, comfortable place for gaming, movies, your own bar or hobby workshop.
Full details are in the pdf download, but here's a summary of our step-by-step guide to converting a new or existing shed into your own personal man cave.
Whether you're after a dedicated games suite, a bar or just a bolthole to get away from it all, this guide will help you plan and achieve your dream.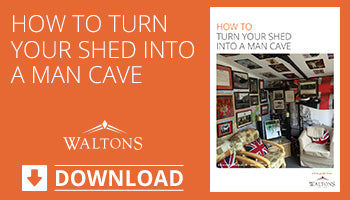 Man cave shed conversion guide:
Start planning your man cave conversion. Make two lists: one detailing what you'll Use the shed for, and another detailing what your Requirements for those uses are.
Plan your man cave's size and layout, according to your Requirements list, available space and budget.
Thoroughly check your existing shed and chosen site to assess its condition, making any necessary repairs.
Make a comprehensive job list. Include the days on which each task will be achieved, and who will be doing each one (e.g. you, your mates, or a professional).
Start converting your shed by damp- proofing it.
Insulate the structure, then cover the walls with ply, plasterboard or tongue and groove.
Install electricity (using mains, solar, or wind power). You'll need a professional for this job.
Fit your man cave with your choice of lighting (halogen, LED, fluorescent, lamps, or novelty lights).
Install the heating choosing from wood stoves, tube heaters, underfloor, portable radiators, or convection heaters.
Connect your man cave to the internet through tethering, WiFi or powerline adapters.
Run water to the shed if required, using either new mains pipes or a water butt.
Install and properly plumb in the bathroom, if you're having one. A professional plumber should do this work.
Ensure your shed and contents are properly secured with proper locks and solid door frames.
Move your chosen storage solutions into the shed, along with your man cave gear.
Decorate to your own taste.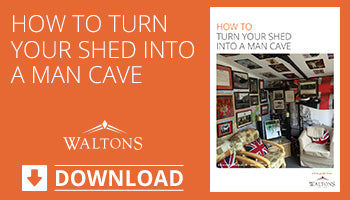 Download the guide now, and make your man cave dream a reality.
Lead image and others by kind permission of readersheds.co.uk
---
You may also like
---