Click Image to Enlarge
Garden Gear 3.9m Dome Event Shelter with Two Sunshade Walls
Now Just: £174.99
Large area; Our 13-foot dome shelter offers approximately 15.7 square metres worth of living space
Waterproof; Protect yourself and your outdoor furniture from the rain under this shelter
UV protection; The dome is made from UV30+ fabric meaning it will help to reduce the risk of exposer to the sun's harmful rays
Versatile; Use at home in the garden, whilst camping, at the beach and anywhere else you may need a waterproof shelter
Warranty; 2-year warranty*
Out of Stock
Description
Garden Gear 3.9m Dome Event Shelter with Two Sunshade Walls
Host events whilst staying protected from the elements with this dome events shelter by Garden Gear. Perfectly sized to fit garden furniture, such as tables or chairs, as well as a group of people, this dome shelter is great for outdoor events.
Measuring 13ft x 13ft this shelter offers approximately 15.7 square metres worth of sheltered living space. The dome shelter is waterproof, and offers UV30+ protection from the sun, meaning that you, your guests and any furniture will be kept safe and dry whilst the shelter is in use. The centre gives you a whole 2.6 metres of head room, ample space for adults to be able to stand upright.
The dome shelter includes four removable mesh walls to keep insects out, two removable sunshade walls for extra protection from the sun, pegs to secure the shelter to the ground and is packed neatly into a carry bag for easy transportation and storage.
This dome shelter offers the perfect solution for keeping dry at outside events and can also be used above children's paddling pools and play equipment to help protect them from harmful rays of sunlight.
Specifications
Dimensions: L391.5 x W389.3 x H261cm
Weight: 8.46kg
4 removable mesh walls
2 removable sunshade walls
Pegs included
Carry bag included
Delivery Information
Delivery on this product is available to most UK Mainland addresses.
Returns
We take every care to ensure that you receive the correct goods in perfect condition. In the unlikely event that you ever need to return any item to us and it is within our 30-day warranty period then please contact us for a returns authorisation number. Our customer service team will then provide you with our returns address.
All goods must be returned via recorded, insured method at your own cost. We cannot be held responsible for returns parcels lost in transit. It is the sender's responsibility to ensure parcels are adequately insured. If the goods exceed £46 in value we strongly suggest that you take out additional insurance. In order that we can satisfy your requirements promptly we will need your full instructions, explaining the reason for the return and the action you wish us to take.
Videos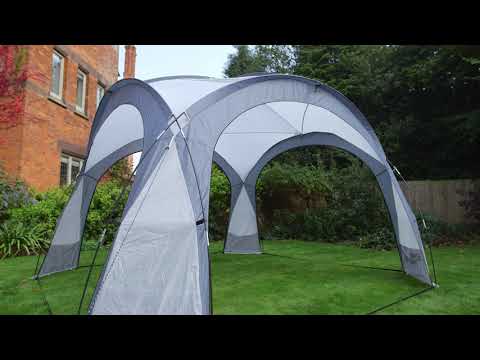 Play Video
Sheducation
Natural Wood Characteristics
Natural Wood Characteristicts
As wood is a natural material it may be affected by the following:
Shrinkage & Warping
The timber used in the construction of your garden building will have retained some of its natural moisture content. The moisture content of the timber will vary, depending upon prevailing environmental conditions, which will result in the components either naturally expanding or contracting. As the components dry out shrinkage may occur. A good waterproofing treatment from the start is the best protection to minimise the effect of moisture loss/intake.
Damp & Mould
During the winter months, cold and damp conditions can result in an increased amount of moisture within your garden building, especially when used infrequently. Condensation can form on the timber and other items stored within your garden building. If left this moisture is likely to cause mould and mildew. To prevent the build-up of moisture, we recommend leaving the door or windows of your building open from time to time, to allow the fresh air to circulate. We also advise against storing wet or damp items in your garden building as this will also increase the level of moisture in the building. If mould or mildew does start to form within your building we recommend using an anti-mould cleaner to remove it and to prevent it spreading, which if left untreated could permanantly damage your garden building.
Splits, Cracks & Knots
Small splits and cracks in some components or holes may appear where knots shrink and fall out. This will not affect the structure of your garden building however if you wish to fill them this can be easily done using any good quality wood filler
Sap
Sap is naturally occurring in wood and may appear in some boards of your garden building. If you wish to remove the sap, we advise waiting until it is dry and then using a sharp knife to carefully remove it. If the removal of the sap causes a hole in the timber, we recommend using a good quality wood filler to fill it.
Please be aware that these are natural timber characteristics which in most cases will not impact the structure or function of the garden building, therefore are not considered as product defects (as outlined within our Terms & Conditions). If you require further advise or information please contact our friendly Customer Services Team.