Click Image to Enlarge
8 x 8 Vermont Wooden Summerhouse
Now Just: £1,149.99
41 Reviews
Interest Free Credit Available.
From only per month.
Click for more details.
Customise & Buy
10 Year Anti Rot Guarantee
Pick your day and delivered free to most areas
12mm Interlocking Shiplap Tongue & Groove Cladding
Solid Sheet Board Roof
12mm Interlocking Tongue & Groove Floor
Secure Bi-Folding Doors
100% Shatterproof Styrene Windows
Mineral Felt Included
Ready Painted and Home Installation Service available
Find This On Our Showsite
View Specification
Read Our Summerhouse Buying Guide
Customise your options
In stock
Delivery Charges Explained
Add to Basket
Description
The Waltons 8 x 8 Vermont Summerhouse is a high quality garden building that will create the perfect place for you to enjoy the garden, rain or shine! Featuring contemporary bi-folding doors, the whole frontage opens up, to bring the outdoors in and create an open living space. With additional windows to both sides, the interior is bright and airy. Whether it'll be somewhere you entertain guests or somewhere you go to enjoy some peace and quiet, the Vermont is sure to give you many years of use.
Constructed using 12mm Shiplap tongue and groove cladding, the walls are strong, long-lasting and weather resistant. The floor is manufactured using high quality, interlocking tongue and groove boards for a heavy-duty and robust finish, that will comfortably support your furniture. The roof is cut from solid sheet board, a hard-wearing material that offers excellent value. We supply high quality mineral felt to cover the roof, this will provided added protection against the elements. The glazing on this summerhouse is made from strong and shatterproof styrene, a safer alternative to traditional glass glazing. This is perfect if you've got a busy garden or young children running around!
We supply robust fixtures and fittings with this summerhouse, including a lock and key for security. Alongside our standard 1 year manufacturer's warranty, we offer a 10 year anti-rot guarantee. Provided you treat the building once installed, and again annually, with high quality timber preservative and a waterproof top coat, your guarantee will be good to go!
Click here to view our easy to follow installation instructions
---
Important Information
Our dip treated summerhouses, once installed, will need treating as soon as possible and on an annual basis in order to receive the 10 year anti rot guarantee*. The summerhouse also includes a 1 year manufacturers guarantee* as standard.
Dip Treated Summerhouses
Our summerhouses are supplied flat packed as DIY kits with full instructions.
It is the customer's responsibility to follow the product instructions and the information outlined within the Manufacturers recommendations.
All of our summerhouses are delivered unpainted. The summerhouses are dressed for display, we don't supply any accessories or shelves featured within the product images.
Our factory applied dip treatment may differ in shade between components as it is simply a basecoat.
Exact product dimensions are supplied on the listing as we do round off the main size of the building in the title in order to make it easier for customers to find, so please be sure to check the item's specific measurements carefully.
Delivery times highlighted with an asterisk (*) refer to working days.
10 Year Anti-Rot Guarantee
Our dip treated summerhouses come with a 10 year anti rot guarantee. Anti-rot protection guards against fungal decay. The guarantee does not cover movement, twisting, warping or splitting of timber products over time.
during manufacture we apply a water based colourant for protection whilst in storage and transit. This treatment is not a preservative therefore the product will require a preservative and waterproofing top coat application as soon after construction as possible.
In order to keep your summerhouse in tip top shape and maintain the 10 year anti rot guarantee, it will need re-treating at least annually. Only high quality timber preservatives should be used and applied in accordance with the manufacturer's recommendations. This must be done at least annually to preserve the 10 year anti rot guarantee. For more information please refer to the Waltons T&C's.
1 Year Manufacturer's Guarantee
Subject to the conditions set out in the T&C's (Section 8) the Seller warrants that the Goods will correspond with their specification at the time of delivery and will be free from defects in material and workmanship for a period of 12 months.
Planning Permission
Whilst we work hard to design all of our garden buildings to adhere to planning permission guidelines, we cannot guarantee that planning permission will not be required. Therefore we advise that it is always best to check with your local authorities before erecting a garden building.
Aftercare
We want you to enjoy the use of your new summerhouse for many years. To ensure this, it is important your summerhouse is protected at the start and maintained during its life. If you're planning a DIY project, please read our Self-Installation & How to Build a Shed advice pages before you start.
BASE
All long-lasting summerhouses will have been built on a solid and level base, either concrete, slabs, a wooden frame or ground level bearers. A flat, level base is essential, for more information go to our How to Build a Shed Base guide.
If your summerhouse is not level and square when built, it will twist and warp with the natural movement of the wood. The first signs of this are when the doors or windows stop opening and closing properly. You may get issues with the roof and potential gaps in the panels which will allow water in, there may be flex in the floor and probably creaking. Check your base is level in both directions and adjust prior to the build. It will be really difficult to adjust afterwards.
Glazing
Our styrene windows are protected using a clear film which will need to be removed after you've installed and treated the summerhouse. This can be removed easily by scoring round the edge of the window and peeling back the plastic covering.
All Waltons summerhouse windows are designed to fit well, but over time and with the movement of wood, small gaps can appear. Help to prevent this by sealing your windows with a silicone sealant. You can do this either when you build your summerhouse, or add it to an existing one. We've created this video Protect Your Shed - Silicone Window Sealant for guidance.
We've also created these handy Maintenance Guides to help you make the most out of your summerhouse, for years to come. Should you require any further advice, you can contact our Customer Service Team on 0800 029 1000 and select Option 3.
Specification
Please Note: Sizes are approximate only. For specific details, please consult our technical department.
| | |
| --- | --- |
| Imperial Size (ft) | 8 x 8 |
| People Req'd To Build | 2 |
| Framing | 1 x 1 (28 x 28mm) |
| Anti-Rot Guarantee | 10 Years |
| Cladding Style | Shiplap Tongue & Groove |
| Cladding Thickness | 12mm |
| Cladding Material | Shiplap Tongue and Groove |
| Roof Material | 9mm OSB |
| Floor Material | 12mm Tongue and Groove |
| Roof Type | Apex |
| Door Style | Bi-folding Door |
| Building Type | Contemporary Summerhouse |
| Metric Size (Meters) | 2.4 x 2.4 |
| Under 2.5m Tall | Yes |
| | Imperial | Metric |
| --- | --- | --- |
| Width | 93 inches | 2.36m |
| Depth | 94 inches | 2.39m |
| Eaves Height | 79 inches | 2.01m |
| Ridge Height | 100 inches | 2.54m |
| Door Width | 74 inches | 1.88m |
| Door Height | 68 inches | 1.73m |
| Internal Width | 90 inches | 2.29m |
| Internal Depth | 92 inches | 2.34m |
| Base Width | 94 inches | 2.39m |
| Base Depth | 96 inches | 2.44m |
| Double Door Height | Secure Lock and Key Supplied inches | 0m |
Delivery Information
Returns
We offer a 14 day money back guarantee on all of our items. The guarantee commences from the date which you receive your item and we offer a free collection service as part of this agreement.
The building must be returned in its original, untreated, resalable condition. Until the item is collected by our courier, it's the responsibility of the customer to ensure that the building remains in this condition.
As the buildings are sold as DIY kits, we cannot dismantle on your behalf and we cannot be held liable for any third party costs. Once the building has been received by our factory, a full refund will be issued within 1-3 working days.
Videos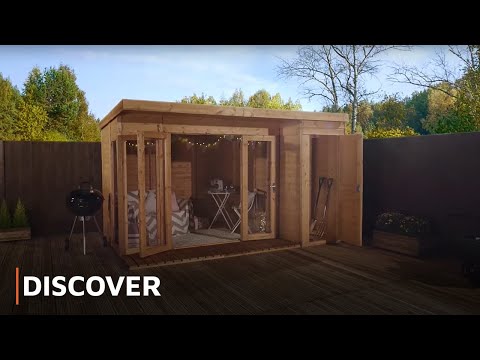 Play Video
Play Video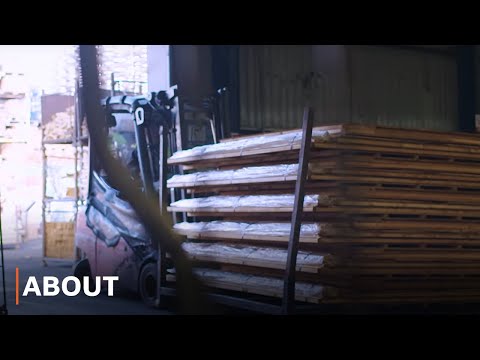 Play Video
Play Video
Reviews
Unlike many companies, we publish all of our reviews - good or bad - to give you, the customer, total transparency and peace of mind.
Sheducation
Summerhouses Cladding Materials
Our CladdingMaterials
Scroll through to learn more about the different cladding styles that are available for our summerhouses.
OverlapCladding
Our overlap cladding is manufactured using thick panels that are nailed to vertical, internal framing with an overlapping profile. Overlap cladding is the easiest and cheapest construction method, making it a cost effective option. This type of construction is great for those looking for a secure, dry storage solution but we would encourage those looking to spend a lot of time inside the summerhouse to consider a Shiplap alternative.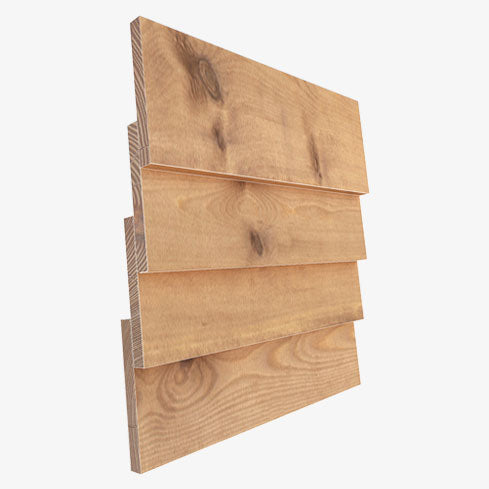 Tongue &Groove Cladding
Although Tongue & Groove boards are generally used for the roof or floor, we do occasionally use this as cladding. This cladding is manufactured using 12mm tongue and groove boards that lock together and are then nailed to the vertical internalframing. This type of cladding is robust, strong and resistant to water ingress and draughts.
ShiplapCladding
We manufacture our shiplap cladding using thick, 12mm tongue and groove boards that lock together and are then nailed to vertical internal framing. Featuring a protective lip, this cladding protects your building from the weather with a tight seal. This type of construction is great for those looking to spend lots of time within the summerhouse or for a more robust and strong storage solution.
Summerhouses Treatment
Dip Treatment
Our summerhouses are dip treated during manufacture as standard. This is the process in which we apply a water based colourant for protection whilst in storage and transit. This is not a preservative therefore the building will require a preservative and waterproofing top coat application as soon after construction as possible. This is required to validate your 10 year anti-rot guarantee.
Timber is cut ready for treatment.
Timber is dipped into a cylider containing preservative.
Preservative is absorbed into the surface of the timber.
Timber is removed from cylinder containing preservative.
Timber is left to airdry.
Summerhouses Roof and Floor Materials
Our Roof &Floor Materials
Scroll through to learn more about the different roof and floor materials that are available for our summerhouses.
Solid SheetBoard
Solid sheet board is an engineered wood formed by adding adhesive and then compressing layers of oriented strands of wood to form a strong and robust panel. This material is perfect for everyday use and will form a strong base or ceiling to your building. If you require a more heavy duty flooring for holding large tools and equipment, you may want to consider upgrading to tongue and groove.
12mm Tongue &Groove Boards
Toungue & Groove boards make the perfect roof and floor for frequently used buildings as well as those that will be storing heavier items such as work benches, tools or furniture. The boards interlock to form a tight seal, helping them spread the load within the building. We'd always recommend upgrading to tongue and groove boards if you plan to spend a lot of time within the building or if you're storing heavier items.
Summerhouses Glazing Styles
Styrene
Styrene is a lightweight product that offers a safe and shatterproof alternative to traditional glass glazing. Used as standard within our summerhouse, summerhouse, playhouse and greenhouse ranges, styrene is ideal for those with busy gardens or young children.
Summerhouses Roof Covering Options
Natural Wood Characteristics
Natural Wood Characteristicts
As wood is a natural material it may be affected by the following:
Shrinkage & Warping
The timber used in the construction of your garden building will have retained some of its natural moisture content. The moisture content of the timber will vary, depending upon prevailing environmental conditions, which will result in the components either naturally expanding or contracting. As the components dry out shrinkage may occur. A good waterproofing treatment from the start is the best protection to minimise the effect of moisture loss/intake.
Damp & Mould
During the winter months, cold and damp conditions can result in an increased amount of moisture within your garden building, especially when used infrequently. Condensation can form on the timber and other items stored within your garden building. If left this moisture is likely to cause mould and mildew. To prevent the build-up of moisture, we recommend leaving the door or windows of your building open from time to time, to allow the fresh air to circulate. We also advise against storing wet or damp items in your garden building as this will also increase the level of moisture in the building. If mould or mildew does start to form within your building we recommend using an anti-mould cleaner to remove it and to prevent it spreading, which if left untreated could permanantly damage your garden building.
Splits, Cracks & Knots
Small splits and cracks in some components or holes may appear where knots shrink and fall out. This will not affect the structure of your garden building however if you wish to fill them this can be easily done using any good quality wood filler
Sap
Sap is naturally occurring in wood and may appear in some boards of your garden building. If you wish to remove the sap, we advise waiting until it is dry and then using a sharp knife to carefully remove it. If the removal of the sap causes a hole in the timber, we recommend using a good quality wood filler to fill it.
Please be aware that these are natural timber characteristics which in most cases will not impact the structure or function of the garden building, therefore are not considered as product defects (as outlined within our Terms & Conditions). If you require further advise or information please contact our friendly Customer Services Team.
Ready Painted
What is a ready painted garden building?
Our ready painted service is available on a range of our shiplap sheds, summerhouses, greenhouses, playhouses and insulated garden rooms. We use premium, fully opaque paint that offers exceptional durability with a low maintenance finish. The paint will act as a preservative to protect against weathering, UV degradation, mould and fungal attack.
Choose your favourite colour from our wide range of shades from neutral tones to popping brights! Your painted garden building will have a stylish and eye-catching look, with the highest quality finish!
What are the benefits?
Installation is included!
Your building will arrive finished to the highest standard and protected from the get go
Cut out the hassle and save time!
You will get an additional 1L tin of paint for touching-up!
Pick your choice of colour from our range of 20 different shades!
Your building will benefit from our Paint Promise guarantee*. This means your paint will last 3 years with minor care and attention - and your building will still be covered for its anti rot guarantee!
How does it work?
Choose your garden building
Select our ready painted service
One of our team will contact you to confirm some details including your colour choice and the date for delivery and installation
Your building will be installed and finished by our team of highly skilled fitters
The paint process
Our four stage painting process has been developed to ensure your
garden building is finished to the highest standard.
Step 1End Grain Sealer
We apply a water based barrier coat which penetrates and seals porous end grain, reducing moisture uptake by up to 90%.
Step 2Primer
We then use a water based isolating paint as primer to minimise yellowing from knots and softwood with a large amount of heartwood.
Step 3Paint
AQUATOP®, our fully opaque topcoat, provides extended protection against weathering, UV degradation, mould and fungal attack. Proprietary technology minimises micro foaming in the final paint finish, extending the coating durability.
Step 4Touch Up
We touch-up any blemishes onsite during installation. Additional paint is supplied with the building on handover for any future touch-ups.
FAQ's
Is installation included with a ready painted garden building?
Yes, installation is included on all ready painted garden buildings.
Can I select more than one colour?
We only offer one colour per building. We are unable to offer multiple colour ways on one building.
Will my ready painted garden building be refundable?
As the order is bespoke to you, it will not be refundable.
Will my ready painted garden building be painted on the inside?
Your building will ONLY be painted on the outside.