Your new shed or garden building is only as good as the the base you build it on. That's why, to help you get it right, we've compiled this guide to how to build a shed base (pdf guide).
Our guide gives you detailed instructions for all the main types of foundation. Whether you're interested in a wood, patio slab, concrete or ground screw shed base, or have yet to make up your mind, this free guide is yours to download and share.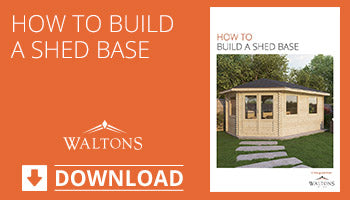 You can normally do the bulk of the work for your base in a day. Whichever kind of base you build, there are a few basic principles that you do need to adhere to:
Make sure you have enough space to ensure you're able to get all the way around your shed.
You'll need to be able to get round your shed when you're doing regular maintenance such as treating the timber or clearing away plants that are growing next to the building
Check that your ground is clear and level.
A base that's not level won't support your shed properly. Over time you'll find that the timber moves with changes in temperature and humidity. An uneven base will result in the building's structure losing its integrity over time.
Build your base according to the instructions, making sure you keep the final product completely level
Whether it's wood, paving slab or concrete, avoid short cuts that might result in a bumpy or lopsided base.
Install your shed on top of the base.
A well-maintained garden building on a solid, level base can give you years of service and enjoyment.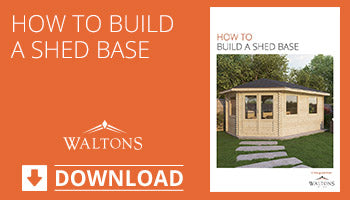 Download our free guide to building a shed base - it's an achievable task for any competent DIYer.
---
You may also like
---