Are you a budding potter, or a professional artist with no room to work at home? Converting a humble garden shed into a fully- equipped studio could be the perfect solution.
A shed can be thoroughly protected against the elements, as well as wired for all the necessary utilities, making it a comfortable, dedicated space to create and work. It can also be altered and decorated to suit your exact preferences.
Here's our guide to converting your shed into an arts and crafts studio.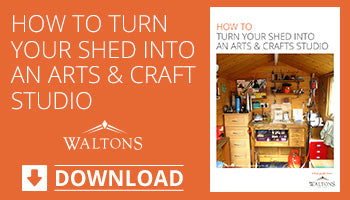 Arts & crafts studio shed conversion guide:
Start planning your ideal studio by making two lists: one to outline what you will use your studio for ('uses'), and one to detail what those uses mean you'll need ('requirements').
Plan the layout of your studio, experimenting with the location of furniture and equipment, as well as doors and windows.
Check your existing shed for any damage and examine its location in your garden, checking for current (and the potential for future) issues.
Make a job list, detailing each task that will need to be done, as well as what and who will be needed to get it done.
Start the conversion by damp-proofing your shed.
Insulate the shed's walls, ceiling and floor.
Get an electrician to wire your studio for mains electricity. Or install an alternative, such as wind or solar power.
Fit the studio with your choice of artificial lighting (e.g. fluorescent overheads or bulbs, LEDs, halogen or lamps).
Install the heating (via electric heaters, under floor systems, or a wood stove).
Connect your shed to the internet through access to your home WiFi, tethering, or a powerline adapter.
Supply the studio with water either through access to the mains supply or a simple guttering and water butt system.
Secure your shed with reinforced doors, locks, and hinges, as well as strong glass in the windows and motion-sensitive lights.
Move your storage and furniture into the studio.
Finish the conversion by decorating your studio according to your own tastes.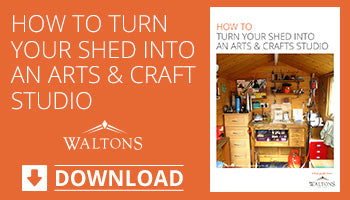 Download the guide now, and bring your creative space to life.
Lead image by kind permission of cinnamonjewellery.co.uk
---
You may also like
---