WIN a Waltons Mini Greenhouse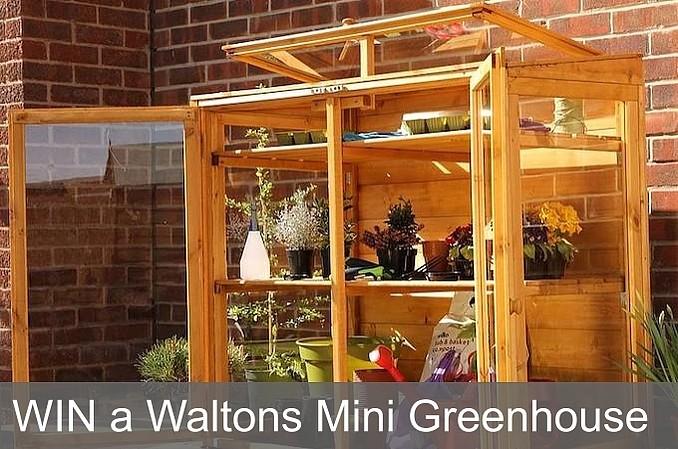 Our Waltons mini greenhouse competition has now closed and the winner has been contacted. Congratulations to our winner 'Louise A.' - we hope you're enjoying your prize!

In the meantime, discover more about this popular little hero from our greenhouse range and keep an eye out for future competitions.
The Prize
Compact and sturdy, this superb little greenhouse will tuck neatly into a small space and protect your plants when they need it most. Ideal for getting your seedlings going a bit early, hardening off plants and growing cuttings, your mini greenhouse will also be useful in the autumn when it's time to overwinter young plants or shield alpines from the rain.
Shatterproof styrene glazing allows plenty of light in to help your young plants grow. The styrene we use is also UV resistant, helping to protect your plants from harmful rays from the sun. 
Large double doors, and a top that tilts open, allow for easy access and swift temperature control.
A pent style roofline aids with water run-off and the wood is treated before shipping, essential for prolonging the life of this mini wooden greenhouse. We do recommend a second coat of treatment after delivery to maximise the life of your new product.
This mini wooden greenhouse will help to fill your garden with life and colour, whether you want to grow plants, flowers, fruit or vegetables. 
Terms and conditions
The Waltons mini greenhouse giveaway (the "Competition") is open to residents of the UK aged 18 and over only.
The Competition is not open to employees or agencies of Waltons Web Limited ("Waltons"), their group companies or family members, or anyone else connected to the Competition.
Entry into the Competition is acceptance of these Terms and Conditions.
To enter the Competition you must use the Rafflecopter widget above to either tweet about the giveaway, visit the Waltons Facebook page or subscribe to Waltons exclusive email offers. If you have any questions about how to enter or in connection with the Competition, please e-mail us at blog@waltons.co.uk. Do not email us to enter; only email if you have difficulties using the online entry form above.
Entries on behalf of another person will not be accepted and joint submissions are not allowed.
No responsibility is taken for entries that are lost, delayed, misdirected or incomplete or cannot be delivered or entered for any technical or other reason. Proof of delivery of the entry is not proof of receipt.
The Competition closes at 12 noon on Thursday 25th February 2021. Entries received after that date and time will not be considered.
The winner will be chosen from a random draw of correct entries.
The Prize consists of one Waltons 4 x 2 Evesham Mini Wooden Greenhouse.
Free delivery of the Prize is unavailable to postcodes: TR , PL, TQ, BT, IOW, KA, PA, PH, AB, IV, KW. Prize cannot be delivered to postcodes IM, ZE, HS, and some parts of PA, KA. Waltons accepts no responsibility for any costs associated with the prize and not specifically included in the prize.
The winner will be notified by email within 3 working days of the closing date. If a winner does not respond within 14 days of being notified, then the winner's prize will be forfeited and Waltons shall be entitled to select another winner. If a winner rejects their prize, then the winner's prize will be forfeited and Waltons shall be entitled to select another winner.
The Prize is non-exchangeable, non-transferable, and is not redeemable for cash or other prizes.
Waltons retains the right to substitute the Prize with another prize of similar value in the event the original prize offered is not available.
Waltons may request that the winner participates in publicity arising from the Competition. The winner is under no obligation to participate and may decline this request. Participation is at the winner's discretion.
This competition is free to enter. No purchase is necessary.
Waltons accepts no responsibility for any damage, loss, liabilities, injury or disappointment incurred or suffered by you as a result of entering the Competition or accepting the prize. 
Waltons reserves the right at any time and from time to time to modify or discontinue, temporarily or permanently, this Competition with or without prior notice due to reasons outside its control. The decision of Waltons in all matters under its control is final and binding and no correspondence will be entered into.
Waltons reserves the right to disqualify entries if it has reasonable grounds to suspect that fraudulent entry has occurred.
Waltons shall not be liable for any failure to comply with its obligations where the failure is caused by something outside its reasonable control. Such circumstances shall include, but not be limited to, weather conditions, fire, flood, hurricane, strike, industrial dispute, war, hostilities, political unrest, riots, civil commotion, inevitable accidents, supervening legislation or any other circumstances amounting to force majeure.