Win a Waltons 6ft x 3ft double log store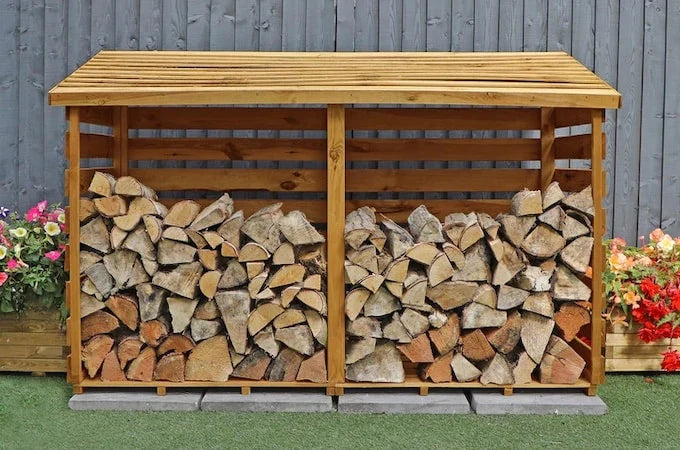 The Waltons log store competition has now closed and the winner has been contacted. Congratulations to our winner 'Laura F' - we hope you're enjoying your prize.

In the meantime, learn more about double log store that you could have won. Browse our full range of log stores for different sized options and keep an eye on our competition page for future giveaways.
5 top tips for storing logs correctly
If you've installed a wood-burner or re-instated an old fireplace to heat your home through the winter, keep your logs neatly stacked and easily-accessible in a dedicated log store. With an open front and slatted sides that allow air to circulate, the 6ft x 3ft double log store from Waltons adds rustic kerb appeal to your front entrance or tucks neatly out of sight in a side-return.
But a log store is much more than just a way to keep your garden tidy. Storing your wood correctly will help it to ignite quicker, burn more efficiently and release less smoke into the atmosphere. Here are five top tips for storing logs: 
It may seem counter-intuitive, but don't cover your wood with a plastic sheet or it's likely to become damp and mouldy. Sun and air are the best ways to 'season' your wood and dry the sap.
Stack logs in a single-depth row (rather than a pile) to allow air to flow through them. 
Raise your logs off the floor to allow air to circulate beneath. 
Store your logs in a sunny spot but make sure they're easily accessible. They can be heavy, and you don't want to have to walk far when it's cold and dark. 
Bring logs inside the day before you need them. This removes any lingering moisture and prevents them from hissing and spitting when lit. Damp wood gives off less heat and releases more carbon dioxide into the air. 
Constructed in the UK from ethically sourced, pressure-treated timber, a purpose-built log store is the best way to protect your logs from damp and rot. The slanted roof, raised floor, open front and slatted sides allow the sun and wind to season 'green' wood and help the sap to dry up. A great way to keep your garden tidy, our beautifully filled log store makes an attractive outdoor feature, too!
Terms and conditions
The Waltons Log Store Giveaway (the "Competition") is open to UK mainland residents aged 18 and over only.
The Competition is not open to employees or agencies of Waltons Web Limited ("Waltons"), their group companies or family members, or anyone else connected to the Competition.
Entry into the Competition is acceptance of these Terms and Conditions.
This competition is free to enter. No purchase is necessary.
To enter: choose from all the methods available, including sharing an email address for great offers, tweeting about the giveaway, and visiting the Waltons Facebook page. If you have any questions about how to enter or in connection with the Competition, please e-mail us at blog@waltons.co.uk. Do not email us to enter; only email if you have difficulties using the online entry form above.
Entries on behalf of another person will not be accepted and joint submissions are not allowed.
No responsibility is taken for entries that are lost, delayed, misdirected or incomplete or cannot be delivered or entered for any technical or other reason. Proof of delivery of the entry is not proof of receipt.
The Competition closes at 12 noon on 6th January 2023. Entries received after that date and time will not be considered.
The winner will be chosen from a random draw of correct entries.
The Prize consists of one 6 x 3ft Pressure Treated Wooden Double Log Store from Waltons.
For more delivery details, please read our Delivery page. For more general information, please see our Terms and Conditions.
The winner will be notified by email within 3 working days of the closing date. If a winner does not respond within 14 days of being notified, then the winner's prize will be forfeited and Waltons shall be entitled to select another winner. If a winner rejects their prize, then the winner's prize will be forfeited and Waltons shall be entitled to select another winner.
The Prize is non-exchangeable, non-transferable, and is not redeemable for cash or other prizes.
Waltons retains the right to substitute the Prize with another prize of similar value in the event the original prize offered is not available.
Waltons may request that the winner participates in publicity arising from the Competition. The winner is under no obligation to participate and may decline this request. Participation is at the winner's discretion.
Aside from the use of the winner's postal address data and email address data to arrange delivery of the prize associated with this giveaway, Waltons will not use personal data for any other purpose without the express consent of the entrant and data will be held in accordance with all relevant data protection legislation. Click here for our full privacy policy. We will only share your data with our Fulfilment Partners for the purposes of and in order to fulfil this giveaway.
If you agreed to sign up to our mailing list, you are agreeing to receive occasional emails and catalogues from Waltons, from which you can unsubscribe at any time. This is a voluntary entry method, and not a mandatory condition of entry.
This competition is free to enter. No purchase is necessary.
Waltons accept no responsibility for any damage, loss, liabilities, injury or disappointment incurred or suffered by you as a result of entering the Competition or accepting the prize. 
Waltons reserves the right at any time and from time to time to modify or discontinue, temporarily or permanently, this Competition with or without prior notice due to reasons outside its control. The decision of Waltons in all matters under its control is final and binding and no correspondence will be entered into.
Waltons reserves the right to disqualify entries if it has reasonable grounds to suspect that fraudulent entry has occurred.
Waltons shall not be liable for any failure to comply with its obligations where the failure is caused by something outside its reasonable control. Such circumstances shall include, but not be limited to, weather conditions, fire, flood, hurricane, strike, industrial dispute, war, hostilities, political unrest, riots, civil commotion, inevitable accidents, supervening legislation or any other circumstances amounting to force majeure.