How to pick the best shed for your allotment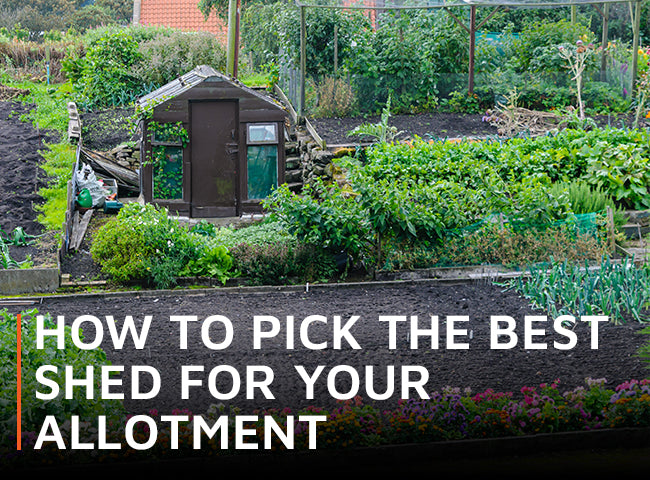 A shed is an incredibly useful addition to your allotment. It provides storage, shelter and protection for younger plants. A shed can also provide you with a level of comfort that allows you to garden for longer, when the mood takes you!
But how do you pick the best shed for your allotment? We asked some of our favourite bloggers for their top tips. Here's what they said...
Which type of shed is best for an allotment?
Traditional wooden sheds look great and are very affordable. They range from basic overlap construction, to sturdier tongue and groove. For Adam Leone of Carrot Tops Allotment, the former is good enough: 
Essentially I see a shed as a giant tool, so it doesn't have to be too fancy... If I have the choice, I'd opt for a shiplap or a tongue and groove shed as these are a bit sturdier... That said, overlap sheds have served me well and I have no qualms with purchasing one.
Metal sheds are another affordable option and they don't need regular maintenance. Harder to break into than wooden sheds, some people also think that their tougher 'look' makes them a deterrent to thieves and vandals. Matt Peskett of Grow Like Grandad agrees: "Metallic sheds don't burn. Vandals do like to torch allotment sheds from time to time, [and] a wooden shed is an easy target. A metal shed may cost more, but is more secure and stable in the long run, and doesn't need painting."
Whether you choose a wood, metal or plastic shed, creating a solid, level base is the trick to making it last. Katie Lane of Orchard Garden Antiques says : "I'd recommend laying paving slabs underneath and for added support I used lengths of wood to keep my shed off the floor so it wasn't sitting in wet puddles or mud."
Do you need a shed on your allotment?
Having a shed is very handy. It gives you somewhere to store your tools and equipment so you don't have to carry them back and forth from home. It also provides refuge from the British weather - somewhere cosy to sit and enjoy a cup of tea until the rain passes. 
Experienced allotmenteers use their shed as a windbreak to create a safe haven for seedlings. If you position a cold frame or mini-greenhouse against the most sheltered side of your shed, your seeds will germinate more quickly. 
But for many gardeners, their allotment shed is simply their happy place. As Katie Lane puts it: 
My shed is my favourite thing on the allotment and I'd be lost without it.
Of course, a shed does take up valuable growing room. In the end, you'll need to decide if you're happy to sacrifice a few square feet for all the fantastic benefits listed above. 
Do you need permission to put a shed on your allotment?
Before you start shed shopping, check the regulations for your allotment. Many require you to get permission before you put up any buildings on your plot. Katie Lane was permitted to install a shed at her allotment, with certain provisos:
We're limited to a 6ft by 4ft shed...on our site due to the rules but I think this is a pretty decent size for an allotment shed. As long as you have space to store your tools, take shelter from the rain and brew some tea that's all you need!
Some landlords also have pre-approved positions for your shed that take into account access, shading and boundary maintenance. If your allotment doesn't have any positioning rules in place, Matt Peskett has this advice: "Don't put [your shed] somewhere that will block light by shading a potential growing area for you OR a neighbour. A spot in the north east of a plot is ideal."
And last, but not least, your allotment may have rules about maintaining your shed and agreeing to remove it should you decide to give up your plot. Again, check this with your own landlord.
What is the best sized shed for an allotment?
Once you know what size shed you're allowed, decide how you're going to use it and what your priorities are. Matt Peskett says: "Don't get a shed that's too big, you won't really spend much time inside it, you'll be far too busy outside. Something large enough to accommodate you during a rain shower is perfect. Maximise your growing area."
Over at Claire's Allotment, however, Claire Burgess advises going as big as possible with your shed:
Think about what you want to store in your shed [and] always get a shed bigger than your needs at this very moment. You always add more tools as you garden... Also it's the UK and it can rain at any moment… And when the weather is blazingly hot, you'll need somewhere to find shade.
Your decision will depend on things like distance from home, the size of your plot and the length of time you spend at your allotment. Here's how Mike of Flighty's Plot made his decision: "I only have a small half plot which is less than five minutes away from home so I decided to have a small sentry box type shed. If I had a bigger plot and it was further away from home I would have gone for a small conventional shed. For me a shed is purely a functional, practical, secure place to keep tools that I use regularly."
How to keep an allotment shed secure
Allotments occasionally fall prey to thieves and vandals. Many allotmenteers advise securing your shed with a padlock or D-lock, and chaining up any equipment inside. Alan of Alan's Allotment advises fitting your shed with these security measures:
Hinges bolted as well as screwed, key and internal lock, external lock… or adopt the 'leave it open so they cause no damage' mentality.
Matt Peskett prefers the latter approach: "Don't lock an allotment shed, or store too much of value inside. If you present a padlock it tells would-be thieves that there's something inside worth stealing. Hide tools underneath a compost heap tarpaulin instead."
Five must-have features for an allotment shed
Once you've got your perfect shed in place, what other accessories do you need to finish it off?
Water collection - Install guttering and a water butt. 
Potting bench - Do your back a favour. If you have room in your shed for a potting bench, get one. 
Shelving - Keep your shed tidy and make use of the vertical space. Alan customised his shed with lots of shelving space: "I have a high level deep shelf on each side… a bench each side... a freecycled four draw storage unit [and] hanging hooks..."
Storage area - Storage is the holy grail of allotment-shed benefits. In an ideal world, Katie Lane says: "I'd love space to hang flowers to dry, somewhere to store my pumpkins…"
Creature comforts - Consider the creature comforts that make your allotment shed a home from home. Katie Lane says: "For me a shed wouldn't be complete without a stove, a kettle and those must have tea making facilities. You just can't beat coming back into the warmth of the shed after a weeding session to sip on a nice hot cup of tea whilst admiring all your hard work."
We hope this post has helped you decide which kind of shed will suit you - and your plot. And if you've got an extra-special shed on your allotment already, we'd love to see it. Share your photos with us via our Facebook page!