Michael Perry's top RHS Chelsea Flower Show picks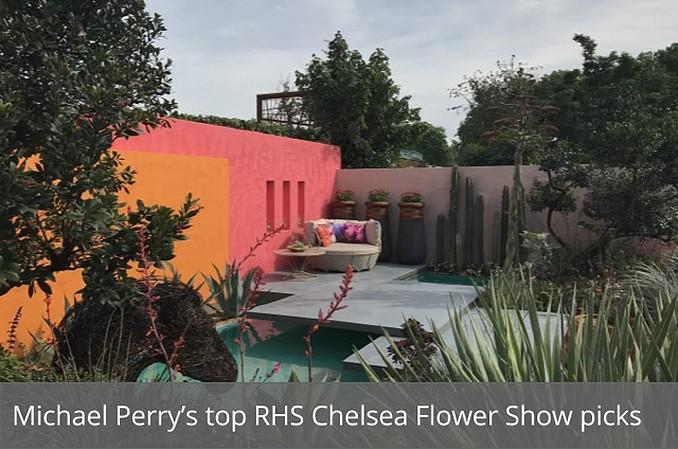 Michael Perry, plant expert, TV presenter and RHS speaker, takes a trip around the RHS Chelsea Flower show and shares his favourite picks with us.
 
Often dubbed 'The Greatest Flower Show on Earth', the RHS Chelsea Flower Show is THE event of the year in London, and isn't just for garden lovers either! Visitors flock from around the world to this floral paradise.

I'm extremely lucky to attend the preview day each year, which is quieter and a little easier to navigate than the later days.
 
It's often surprising how small the Chelsea site actually is, and how much is packed in. Big, majestic gardens to postage stamp size urban plots, fragrant strawberry displays to rainbow gladioli, Chelsea has it all!

Here are my Chelsea picks:
Most vibrant garden - Beneath a Mexican Sky by Manoj Malde
Part of the innovative and space intelligent Fresh Gardens, this tropical gem was inspired by Mexican modernism and designed by Manoj Malde.
On paper, orange and cappuccino shouldn't work, but here they do! Manoj has also blended architectural, Mediterranean plants with breezy cottage garden specimens. Another surprising, yet successful combo!
Most relaxing garden - Hagakure Hidden Leaves Garden by Shuko Noda
Not the usual type of Japanese garden we're shown here in the West. Hagakure Hidden Leaves is a peaceful haven which is compact enough to achieve in an urban space.
One of the most talked about Artisan Gardens at the show, everything is framed neatly with a red wooden frame. Within the garden, the planting is a carpet of hosta and ferns, shadowed by the delicate structures of dogwood (cornus).
Most eye-catching garden decor - The Easigrass Bears
It seems the company Easigrass can turf anything- even buildings and bears, as seen in their wonderfully green display garden at Chelsea Flower Show.
Made from synthetic turf, the creation of these creatures shows the brilliant creativity of the in-house designers. Imagine the intricacy involved in sculpting these wonderful garden features!
Best use of an urban space - City Living by Kate Gould
The Fresh Gardens offer visitors the opportunity to see how design can be used in small urban spaces. This solution-giving area was designed by Kate Gould.
The garden actually resembles an urban apartment block, and shows how achievable greening such a space can be! It's leafy, inviting and multi-levelled, with plants clothing both the horizontal and vertical surfaces.
The garden least likely to fit into your own space - The Chengdu Silk Road Garden by Laurie Chetwood and Patrick Collins
For me, this was the "wow" factor garden. I'd seen it on TV and raced straight to it once I'd arrived at the show. Every plant in this 'east meets west' garden is a Chinese native plant, which meant the beds were full of rhododendrons, peonies and other shrubs, accented by native grasses too.
The colourful sloping beds represent the mountainous Szechuan landscape, but they're so grand that you probably wouldn't fit into the back garden of a usual semi!
The brightest colours of the grand pavilion - Blackmore & Langdon
These begonia and delphinium specialists always pull something majestic out of the bag!
Begonia flowers as large as dinner plates and delphiniums taller than Michael Jordan (probably). Blackmore & Langdon have amassed more than 80 gold Medals and been part of the Chelsea Flower Show since it began.
Best celebrity spot - Chris Evans and Mary Berry in the BBC Radio 2 Feel Good Garden (Taste)
I'm not usually starstruck, but the bevy of photographers hovering around the Taste Garden was too much to miss out on. Who was causing such a commotion?
It was the effervescent Chris Evans and the bakery goddess, Mary Berry. They were being photographed in their Taste Garden - a collection of some of the tastiest plants one can grow on an allotment or in the home garden.
Most innovative new product - Pure Greenhouse
I've had my eye on this for a while - a completely frameless greenhouse! Finally there's a greenhouse that has a less industrial appearance, and which can blend more easily with your landscape, OR be a feature within it!
The smallest garden - The fairy gardens of the Come to your Senses Ecotherapy Garden
Something to try at home, and exciting for children to play with, fairy gardens are growing in popularity. The Come to our Senses garden has been put together by Scotts Miracle-Gro and has been designed to highlight mental health problems in children.
Credit: Michael Perry - MrPlantGeek
For all the show highlights, awards and beautiful gardens, visit the RHS website.
Feeling inspired? Take a browse around our range of grow your own products to start your very own dream garden creation. Or maybe you've already transformed your outside space? Share photos of your gardening journey with us on our Facebook page!
About Michael Perry
Michael Perry, better known as Mr Plant Geek is a plant expert, TV presenter, product developer and all round green-fingered fanatic. With over 18 years experience in the horticultural industry, Michael knows his begonia from his bignonia.
Lead Image: Michael Perry