An Interview with Sally Coulthard, Author of the brand new Shed Decor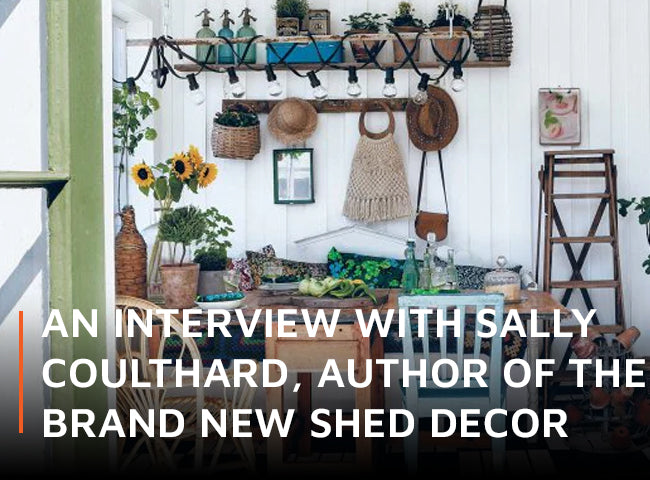 An Interview with Sally Coulthard, Author of the brand new Shed Decor: How to Decorate and Furnish Your Favourite Garden Room.
Tomorrow will see the release of Shed Decor: How to Decorate and Furnish Your Favourite Garden Room, by designer and best-selling author, Sally Coulthard.
The book features case studies of amazing shed spaces from all over the world, including a rustic hunting shed set in the middle of the woods created entirely out of wood from the surrounding forest.
We interviewed Sally about her new book, her love of English Country style and her favourite garden rooms.
What led you to write Shed Decor?
It's a natural follow-on from Shed Chic really. Shed Chic was about shed exteriors; this time around we've thrown open the shed doors to reveal all the gorgeous and very different ways people have decked out the interiors of their garden rooms.
Do you have a favourite shed decor style?
I gravitate towards quite old-fashioned interiors - I love English country home decor - lots of rich fabrics, scuffed antiques, rugs and old paintings. Believe it or not, it translates really well to a shed interior!
What is the most unusual small space building that you have ever come across?
I'm endlessly thrilled by how inventive people are with small spaces – I don't really come across 'wacky' sheds as such, but people constantly amaze me with how much they can pack into a tiny shed and make it comfortable.
I also love it when people make their sheds into genuinely useable living spaces - a shed with electricity, plumbing, heating and decent insulation can transform your home life, adding extra room for a work space, sleeping quarters, a cool dining room - anything's possible.
What top tip would you give someone who is about to begin transforming their shed?
Before you even pick up a paint brush or a hammer ask yourself three questions:
What do I want to do in my shed?
Do I want to use it all year round?
What's my absolute budget limit?
Those three answers will determine everything else that follows.
This may be a difficult question, but which shed in your book is your favourite and why?
So tricky! The rustic hunting hut in the middle of the forest has to be my favourite - the owners made it by hand, using only materials that they could find in the woods around them. I love that practicality and ingenuity.
Do you have any more books planned for the future?
Can't say too much or my publishers will not be happy with me but it's another book about cool, creative spaces....
A review by American Craft website, Lark Crafts:
"Shed Decor is chock-full of wonderful full-colour photographs and tips, tricks, and inspiration for decorating and furnishing the shed that best suits your vision. Whether you'd like a cozy, rustic studio shed, an urban den, or a chic, modern shed,Shed Decor will show you how with the right combinations of colors, fabrics, accessories, and furnishings, you can transform an outdoor building into the shed of your dreams."
About Sally
Sally Coulthard, is passionate about creating garden spaces that adds to your experience of being at home; retreats that encourage you to relax, entertain, and enjoy family life without worrying about the weeds.
After reading Archaeology at Oxford University, and spending over a decade restoring period buildings and gardens, Sally began taking on work for external clients. Taking a new twist on traditional, formal gardens and garden rooms, she designs spaces and structures which combine period elegance and easy maintenance.
Her books have been translated into many languages including French, German, Spanish, Chinese and Russian. Sally's eagerly awaited new book, Shed Decor (Jacqui Small), is due for release Spring 2015.
Sally's work often features in the national press and magazines. Her work has appeared in House & Gardens, The English Garden, BBC Homes & Antiques, The Sunday Times, The Telegraph and many more.
Sally is the author of Shed Decor (Jacqui Small), Home of Your Own: Creating Interiors With Character (Merrell), Gardenalia (Jacqui Small), Shed Chic (Jacqui Small), The Reclaimers (Hodder & Stoughton), Restored to Glory: A guide to Renovating your Period Home and Pure Living (BBC Books) and seven other books.
Shed Decor: How to Decorate and Furnish your Favourite Garden room is available to buy from the 19th February 2015.
Next article
Image Credits: Sally Coulthard and publishers Jaqui Small.
Interview with Sally Coulthard by Waltons Web LTD is licensed under a Creative Commons Attribution 4.0 International License.