How to get the most from your playhouse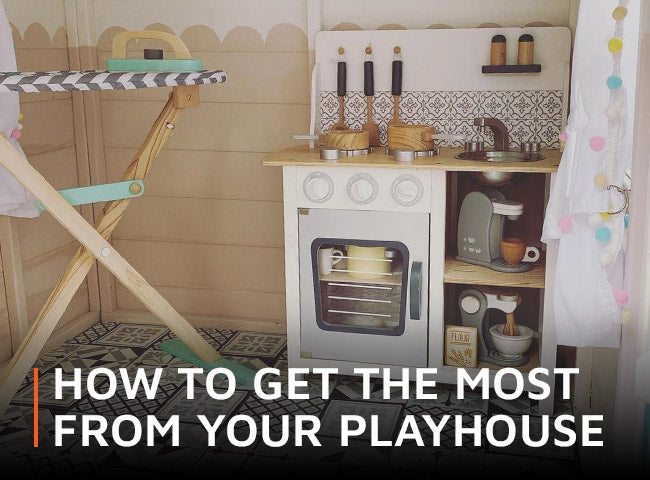 A playhouse is a fantastic way to help children develop social skills through role play and make believe. If you'd like to see your kids get more use from their playhouse, we've collected loads of tips from some of our favourite family bloggers. 
Here's why these parent bloggers think playhouses are such special toys, along with loads of ideas to help your kids get the most from theirs.
Why a playhouse matters
A playhouse gives kids the opportunity to let their imaginations run riot, but free play is really all about learning – play gives kids the chance to rehearse different scenarios so they can develop the resilience and social skills to deal with them in real life.
Kara who writes the fun, family, travel, and photography blog, Chelsea Mamma agrees: "A playhouse is an essential toy for kids. It helps them carry out role play activities which are essential for learning social and communication skills. It also gives them a bit of independence away from adults, which can help with separation issues as they grow up."
Becky at family and positivity blog, Cuddle Fairy agrees, saying she loves seeing her kids transported through play: 
A playhouse is a great toy to encourage imaginative play. Kids who use their imagination become more creative and imaginative adults. There are unlimited...games to play in a playhouse - all you need is your imagination and it can become a castle, a cottage, a space ship...anything.
Introduce props to encourage play
In an era when on-screen entertainment is ubiquitous, kids can lose out on the opportunity to invent their own games. Encourage young imaginations by adding a few props for your kids to play with in their playhouse. Leta Elliott of UK family lifestyle blog, Attachment Mummy suggests:
Provide open-ended toys like tree blocks or wooden blocks, metres of colourful fabric and scarves which can be used to play or re-decorate as they see fit. Add old saucepans, pots or cake pans and a collection of recycling materials that can become all sorts of things in their imaginary world.
Jo over at parenting and lifestyle blog, The Knight Tribe says she bought her little ones a cheap telephone so they could pretend to call her from the garden. She says: "They loved to roleplay which got them outside into the garden playing and using their imaginations – and you don't need any batteries to do that."
Refresh your playhouse regularly
A neglected playhouse stuffed full of junk makes a less than ideal venue for kids to play in. Make sure you keep your children interested by keeping their playhouse well-maintained. If they're old enough, says Steph at Renovation Bay-Bee you can rope the kids into an annual spring clean:
Consider getting the children involved with washing and painting the playhouse each year. It makes them feel proud of their playhouse, but also keeps up with the yearly maintenance to keep it looking smart.
Amanda at Mummy 2 Twindividuals agrees, saying you can also keep things interesting by "changing the theme inside and adding different colours and items, for example, love hearts for Valentines Day; flower pictures and a vase of artificial flowers for Mother's Day; an Easter egg hunt and decorations for Easter."
Make your playhouse homely
A quality playhouse is robust enough to offer possibilities for year-round play – as Erica at The Incidental Parent says: "In the warmer months it becomes an extension of a picnic or barbecue, in the cooler months it makes a good shelter." But whenever your kids like to use their playhouse, it's important to make it appealing. 
Claire at UK family travel blog, Tin Box Traveller has made a real home-from-home for her children: "My girls have a small play kitchen inside and will spend hours in it. We've carpeted the floor and they remove their shoes to keep it clean inside."
Meanwhile, Jemma who writes the blog Thimble and Twig suggests getting kids involved in making curtains and planting little window boxes that they can water and maintain. She says home comforts are important: "A little table and chairs would help facilitate lots of games, and our kids love to play 'going on holiday' so maybe add sleeping bags too."
What to put in your children's playhouse
Tree blocks or wooden blocks
Colourful fabric and scarves 
Dressing up clothes
Toy kitchen, old saucepans, pots or cake pans
A collection of clean recycling materials 
Telephone
Decorations for Christmas, Easter, Valentine's Day etc
Table and chairs
Carpet or rugs
Curtains
Old sleeping bags
Storage containers
Window boxes or plants by the door
Kids never forget playing in their playhouse – we bet you remember yours! If you want a quick and easy solution, choose a model from our ready painted playhouses range and we'll even install it for you. Or browse our full range of wooden playhouses to see all of high quality buildings made from FSC certified timber. 
Lead customer image: @theprentwistles