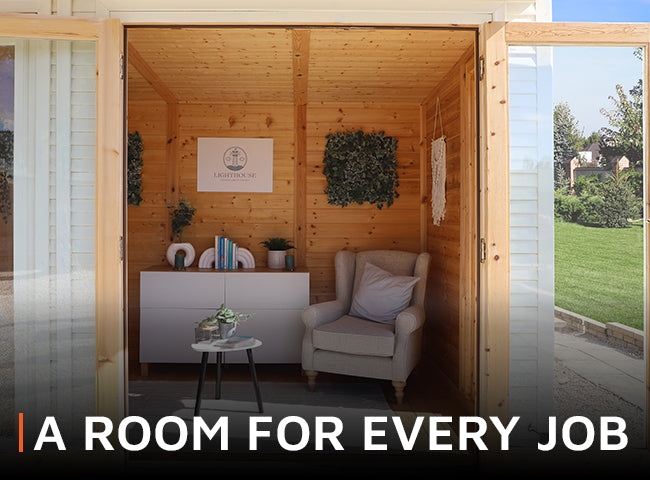 With more employers implementing remote working in the UK, it looks like the work from home revolution is here to stay! While makeshift home office set-ups at the dining table or in a spare room may have sufficed temporarily, many professionals now seek long-term solutions. For many self-employed and freelance workers, this is a familiar tale. As business grows, so does the demand for a permanent office space, whether it's to work independently, accommodate a team, or meet clients.
If you're facing limited space or distractions in your current home office, consider a log cabin or insulated garden room as the ideal solution. These versatile garden buildings are perfect for year-round use and provide a blank canvas to create your dream office space. With the option to install electric power, you can equip your workspace with all the essentials for a highly productive day.
At Waltons, we offer a wide range of styles and sizes, ensuring the perfect home office for your needs. We've gathered some fantastic examples of office set-ups using Waltons log cabins and insulated garden rooms to help inspire you…
Beauty treatment room
If your business is reliant on a tailored workspace specific to your area of expertise, working from the spare room might not be a viable option for you. Our 4m x 3m Helios Curved Roof Log Cabin has been flawlessly redesigned into a sleek and professional beauty treatment room. This sizeable log cabin provides generous floor space to accommodate essential equipment for beauty treatments, such as a nail station and massage table. 
A consistent and comprehensive colour scheme emits calming and luxurious vibes. Waltons log cabins are designed to be versatile and customisable, so you can utilise the existing natural qualities of the cabin or completely transform it with a few simple pieces. Additions like display shelving and framed prints effortlessly personalise the space and strengthen the brand identity. Our log cabins are designed for strength and longevity, so you can rely on your workspace for many years to come!
Photography studio
A dedicated office or studio space can be extremely beneficial for creative professionals. Minimising distractions and providing a room exclusively for creative work can help immensely with focus and productivity. Our 3.3m x 3.7m Log Cabin with Veranda has been brilliantly remodelled into an inspiring and multi-functional photography studio; this space is perfect for individual desk work, hosting clients, and conducting photoshoots.
Waltons log cabins are incredibly versatile, allowing the photographer to adapt the room to suit their needs and requirements. Spacious interiors allow for bulky and tall equipment to be installed and manoeuvred, while the vast windows illuminate the room with natural light, making them perfect for photoshoots. A personalised and consistent interior design theme reflects strong branding to visiting clients, enhancing the professionalism of the business.
Functional office
Ideal for business owners, remote workers and freelancers alike, the classic functional office set-up promotes focus and productivity. The 4m x 3m Thoresby Insulated Garden Room provides a spacious floor plan which easily accommodates separate work zones. A comfortable seating area can be utilised for meeting clients or simply taking a well-earned break, while the organised desk space ensures your to-do list is complete in no time! Plus, with the option to install electric power, everything you need for a productive day's work can be accessed with ease.
An issue commonly faced by remote workers is setting boundaries between their job and personal life, as the two can often overlap when working from home. Investing in a garden room office creates a separate work zone, allowing you to switch off at the end of the day and benefit from a very short commute back home!
Hobby room
Whether you're a professional artist or simply enjoy creative hobbies, a dedicated workspace can greatly boost creativity and productivity. Perfectly curated with everything an artist may need, the Yew 5m x 3m Log Cabin has been skillfully converted into an inspiring hobby room or art studio. Dedicated zones offer areas for separate purposes, from a restful seating area to boost reflection and imagination, to a bright and inspiring painting area.
This log cabin also features a secure adjoining storage shed, designed to accommodate all those essential gardening tools and bulky outdoor furniture. So there's no need to sacrifice storage space for your new hobby room! Plus, a log cabin workspace allows you to enjoy your garden whatever the weather, as it is developed for year-round use.
Counselling office
Perfectly designed to create a calm, peaceful environment, our 3m x 2m Insulated Garden Room has been expertly transformed into a professional counselling office. Garden rooms offer a private space to meet with clients away from distractions and interruptions, making them an ideal option for workspaces which require confidentiality. Large, bright windows flood the space with natural light, providing a picturesque view of the garden for relaxing vibes.
Insulated garden rooms are Waltons' most premium product, featuring fully insulated walls, roof and floor, and double glazed windows and doors. This means they are excellent for year-round use, allowing for adequate ventilation in the summer and encapsulating heat in the winter. Decorated with neutral tones, natural fabrics and comfortable soft furnishings, this garden room has been transformed into a counselling room perfect for meeting with clients.