You have added 3.3m x 3.4m Log Cabin with Veranda to your shopping basket.
10 Year Anti Rot Guarantee
Strong Floor Bearers
Robust Roof Joists
Full Instructions and Assembly Kit
Manufactured in Britain
Elegant Antique Ironmongery
Description
About the Waltons 3.3m x 3.4m Log Cabin with Veranda:
The 3.3m x 3.4m Log Cabin is the ideal solution if you're looking to increase the living, entertaining and working space you have at home. Perfectly suited to being a garden snug, reading nook or home office, this cabin is very versatile and the uses are endless. A high apex roof line provides this building with ample headroom inside, ideal for installing tall standing lights and shelving. The additional veranda space and wide opening doors allow you to bring the outdoors in, so you can enjoy the summer weather while being shaded from the sun.
Made of high quality, 19mm log boards that interlock with each other, this cabin has a secure and tight construction that will prevent water ingress and help to retain heat. This garden cabin comes with large double doors that provide easy access and a welcoming entrance. A lock and key are supplied as standard so you can secure your building and belongings when not in use. Featuring two large, opening, SAN styrene glazed windows, this log cabin provides a bright and airy interior. We use high strength SAN styrene to glaze the windows and doors of this cabin, this high strength material is strong, safe and shatterproof. High quality roofing felt is supplied to protect your building from the elements and provide longevity. The roof and floor are constructed using hard-wearing 12mm tongue and groove boards that interlock to create robust and strong panels.
All of our log cabins are made using only ethically sourced, FSC® certified timber and are all made here in the UK by our highly skilled team. Our cabins are supplied un-treated and will require a coat of high quality timber treatment shortly after construction. This log cabin will be delivered in individual tongue and groove timber lengths and should be constructed on a firm and level base.
Making the most of the 3.3m x 3.4m Log Cabin:
This is a versatile and multi-functional garden cabin. Whether you're looking for a hobby room, games room or somewhere to relax and unwind, this cabin could be the perfect fit. With enough room for seating, storage and small dining sets, this space is perfect for entertaining guests. Perhaps you simply want a peaceful spot you can escape to, this cabin would look great furnished with cosy armchairs and book shelves, creating the perfect snug and reading room. Or maybe you're in need of a home office or hobby room for the warmer months, with heavy-duty flooring for heavy equipment and featuring a bright and light interior, this cabin creates the perfect working environment.
Click here to view our easy to follow installation instructions
Important Information
Where can I find the exact measurements of my log cabin?
Before purchasing your new log cabin be sure to check the specific measurements of its size in the Specification section of the product listing. As often in product titles, we round up measurements just so it's easier for you to find your perfect garden building.
How will my new log cabin arrive?
Your new log cabin will be supplied as a flat-pack DIY kit with full instructions. If you're taking on the project yourself, be sure to check out our Self-Installation advice page for plenty of helpful tips.
We strongly advise if you are planning on using a third party installer to construct your log cabin that you do not book their services until you receive and are happy with your garden building. As we do not cover any third party cost in the instance of a failed delivery or a damaged item preventing installation.
Please note that this log cabin has been dressed to look its very best in our product images. Any accessories or fixtures featured are not supplied with this garden building.
Does my new log cabin come with any guarantees?
As standard, this log cabin includes a 1 year Manufacturer's guarantee, as well as a 10 Year Anti-rot Guarantee*. Just make sure to follow the product instructions and our manufacturers recommendations and your guarantee will be good to go.
What does my 10 Year Anti-rot Guarantee cover?
Our entire range of log cabins benefit from our 10 Year Anti-rot Guarantee. This will cover your garden building against fungal decay as long as the conditions of the guarantee have been followed.
These conditions include treating your new garden building with a high-quality timber preservative and waterproof top coat.Treatments of this sort should be applied as soon as your garden building has been constructed, and reapplied annually thereafter. This will enable you to maintain your 10 Year Anti-rot Guarantee and will keep your log cabin in tip-top condition!
Please note that our 10 Year Anti-rot Guarantee does not cover your garden building from the movement of timber that takes place over time. This includes; the twisting, warping and splitting of timber.
For more information on our 10 Year Anti-rot Guarantee please refer to our Terms & Conditions.
Does my new log cabin require planning permission?
We work hard to design all of our garden buildings to adhere to the planning permission guidelines. However, we cannot guarantee that planning permission will not be required. Therefore, before constructing your garden building we advise checking with your local authorities.
What base do I require for my new log cabin?
A flat, level base is essential when building your new log cabin. We recommend the following bases; concrete, slab paving, ground-level bearers or a wooden frame.
Prior to building your log cabin be sure to check your base is level in both directions. If the base of your log cabin is not level when it is constructed it will cause the building to twist and warp with the natural movement of the timber. Therefore, it is really important to adjust your base accordingly to achieve this before constructing your garden building.
For more information on how to build a suitable base take a look at our handy guide. How do I care for my new log cabin? To ensure your log cabin stands the test of time it's important to follow the guidance outlined in your building's product instructions and Manufacturer's Recommendations.
We have also created these super handy Maintenance Guides to help you take care of your cabin. They are full of our expert advice and useful tips so you can enjoy your log cabin for years to come!
However, if you need any further support, don't worry we are on hand to help. Just give our friendly Customer Service Team a call on 0800 029 1000.
How do I care for my garden building's Styrene windows?
A clear film is used to protect your Styrene windows. Once your log cabin is installed and treated this will need to be removed. This can be done by simply scoring around the edge of the window and peeling back the plastic covering inside and out.
The windows of our garden buildings are designed to fit well. However, over time due to the natural movement of the timber small gaps can occur. To prevent this from occuring make sure to seal your Styrene windows with a silicone sealant inside and out.
To see exactly how to do this, take a look at our Protect Your Shed - Silicone Window Sealant video.
Specification
Please Note: Sizes are approximate only. For specific details, please consult our technical department.
| | |
| --- | --- |
| Imperial Size (ft) | 10 x 11 |
| People Req'd To Build | 2 |
| Anti-Rot Guarantee | 10 Years |
| Cladding Style | Interlocking |
| Cladding Material | 19mm Interlocking Log Boards |
| Roof Material | 12mm Tongue and Groove Boards |
| Floor Material | 12mm Tongue and Groove Boards |
| Roof Type | Apex |
| Door Style | Double Door |
| Building Type | Log Cabin |
| Treatment Type | Untreated |
| Metric Size (Meters) | 3.3 x 3.4 |
| Log Thickness | 19mm |
| | Imperial | Metric |
| --- | --- | --- |
| Width | 129.75 inches | 3.3m |
| Depth | 133.88 inches | 3.4m |
| Eaves Height | 87.25 inches | 2.22m |
| Ridge Height | 104.13 inches | 2.64m |
| Door Width | 61.75 inches | 1.57m |
| Door Height | 78.63 inches | 2.0m |
| Internal Width | 121.25 inches | 3.08m |
| Internal Depth | 89.13 inches | 2.26m |
| Base Width | 122 inches | 3.1m |
| Base Depth | 126.13 inches | 3.2m |
Features
10 Year Anti Rot Guarantee
This Product carries the 10 year Anti Rot guarantee as long as the garden building is well maintained.
Strong Floor Bearers
Thick floor bearers provide extra support for the building and raise it off the ground, essential for protecting the building against damp and rot.
Robust Roof Joists
The Log Cabin is constructed using 44mm thick roof joists which provide the perfect, secure and stable frame for the roof to sit.
Full Instructions and Assembly Kit
The Log Cabin is supplied with a comprehensive instruction manual and full assembly kit that makes assembley simple and hassle free.
Manufactured in Britain
This Product was manufactured in the UK. By purchasing this product you are supporting British manufacturing.
Elegant Antique Ironmongery
Features elegant antique style ironmongery creating a traditional looking building perfect for your outdoor space.
Delivery
You can book your preferred delivery date by either:
1. By choosing it when placing your order with us.
2. Through the link provided within your order confirmation email or text message
If a delivery date is not selected, one of our friendly team will be in touch. They will help arrange a suitable delivery date that fits your schedule.
Your garden building will be delivered using either a 3.5t, 7.5t or 18t flatbed vehicle. If you believe there may be difficulties accessing your property or the delivery location, please inform us of this prior to your delivery date.
All our deliveries take place between the hours of 7 am and 7 pm and are carried out by one of our helpful drivers.
On the morning of your confirmed delivery date, we will contact you by email or text message assigning you a two-hour delivery slot. This means that there is no need to wait in all day! We aim to meet these delivery times wherever possible. However, please be aware that unforeseen circumstances can cause deliveries to take a little longer. But rest assured, we are always working hard to keep delays of this sort to a minimum.
Also, on your confirmed delivery date, we will send over a link to the Delivery Portal. Here you will be able to track the exact location of your delivery driver.
Please note that all our deliveries are kerbside only. Our drivers are not permitted to enter your property. If you live in a terraced property, please be mindful to this.
Our delivery driver will unload your new garden building piece by piece to prevent any damage. Yourself, a friend or neighbour will need to be present during the delivery process. This is to ensure that you are happy with the building and are available to sign for the item where required.
In certain situations, we may be able to leave your new garden building in an assigned safe location. If this is a service that you require, please contact our Delivery Team on 0800 029 1000, prior to your confirmed delivery date.
For further information regarding delivery areas and charges please see 'Delivery Charges Explained'.
Returns
We take every care to ensure that you receive the correct goods in perfect condition. In the unlikely event that you ever need to return any item to us and it is within our 30-day warranty period then please contact us for a returns authorisation number. Our customer service team will then provide you with our returns address.
All goods must be returned via recorded, insured method at your own cost. We cannot be held responsible for returns parcels lost in transit. It is the sender's responsibility to ensure parcels are adequately insured. If the goods exceed £46 in value we strongly suggest that you take out additional insurance. In order that we can satisfy your requirements promptly we will need your full instructions, explaining the reason for the return and the action you wish us to take.
Videos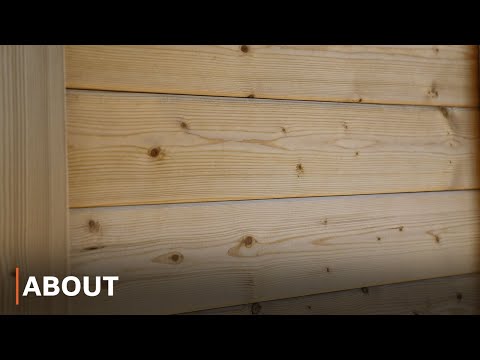 Play Video
Sheducation
Log Cabins Cladding Materials
Log Cabins Roof and Floor Materials
Log Cabins Glazing Styles
Log Cabins Roof Covering Options
Natural Wood Characteristics
Frequently Asked Questions
Can I choose a delivery slot?
We will contact you on the morning of your confirmed delivery date by email and/or SMS with a 2-hour delivery time slot. We aim to meet these delivery times but during busy periods, deliveries may take a little longer, however we always work hard to keep delays to a minimum.
What access is needed for my delivery?
Our drivers are only contracted to provide kerbside drop offs and deliveries. They will NOT bring any of our orders through your home. A driver may offer to take an order further; for instance a back garden but this is ONLY at their own discretion. If you have added our installation service to your order please be aware that they will require full access to your garden. Our installation team will not bring a building through your home as they are not covered by insurance to enter a customer's home. If you have any questions about access or you live in a restricted access zone please contact our sales team on 0800 029 1000. Our team will be able to provide you with more information and specific building information.
Will I need to help my delivery driver?
Our drivers DO NOT need your help during a delivery. They will not ask for your help and they can manage all the items themselves. We are not insured to cover any customer injuries and therefore we ask you NOT to help or try and help our drivers while they make a delivery.
Can't find the answer you are looking for? Checkout our full Frequently Asked Questions OR ask us a question
Log Cabins
AL, B, BA, BB, BD, BH, BL, BN, BR, BS, CA, CB, CH, CM, CO, CR, CT, CV, CW, DA, DE, DH, DL, DN, DT*, DY, E, EC, EN, FY, GL, GU, HA, HD, HG, HP, HR, HU, HX, IG, IP, KT, L, LA, LE, LN, LS, LU, M, ME, MK, N, NE, NG, NN, NP, NR, NW, OL, OX, PE, PO*, PR, RG, RH, RM, S, SE, SG, SK, SL, SM, SN, SO, SP, SR, SS, ST, SW, TF, TN, TS, TW, UB, W, WA, WC, WD, WF, WN, WR, WS, WV, YO
BT, CF, DD, DG, DT*, EH, EX, FK, G, KA*, KY, LD, ML, PA*, PH*, PL, TA, TD, TQ
AB, LL, PA*, PH*, SA, SY, TR*
HS, IV*, KA*, KW*, PA*, PO*, TR*, ZE
*Delivery charge/availability may vary based on location within the postcode