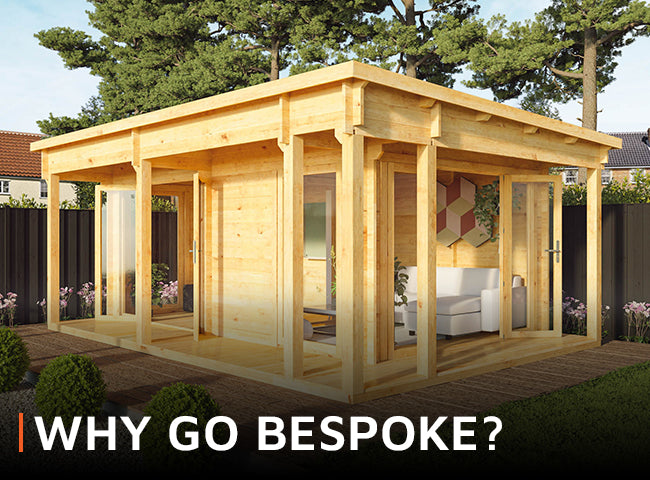 While there are many off-the-shelf options available, they may not always be perfect for everyone. This is why we offer a bespoke log cabin service.
Sometimes off-the-shelf log cabins may be too big or too small. They may not have multiple internal rooms that could really offer the practical space you're searching for. They may not have the doors and windows positioned exactly where you'd like them. Or perhaps, you just want something totally unique.
The benefits of a bespoke log cabin
Maximise space and usability by opting for a bespoke log cabin. Choose a size that's perfect for the space you have available, and you can enjoy the full potential of your garden. Not only that, but the building itself can be as unique as you are. Multiple internal rooms? No problem! Upgraded doors and windows, exactly where you'd like them? We can do that! Double skinned walls and insulation for all-year-round use? We can spec that! A specific shape? You just tell us! A hidden side shed for your clutter? What a great idea!
How to create a bespoke log cabin
The first step is to complete our bespoke log cabin enquiry form. This will provide us with the basic details of the cabin you're looking for. From then, one of our friendly and knowledgeable team will call you to discuss your requirements further. You are also welcome to visit us in-person at our showsite near Newark. 
Our team will then bring your ideas to life. They will share with you drawings of your building so you're able to visualise it and make as many tweaks as you need until it's perfect. The building will then be manufactured to your exact specifications, and within a few weeks, our professional installation team will arrive at your home to install your new space.
Our tips and tricks for the perfect log cabin
First, consider all the uses you'd like for your new log cabin. Is it multi-functional? Part-home office, part-entertaining space? This will allow you to consider how many internal rooms you may need and will consequently influence the size of the building. Would you also like it to be designed with a side shed for your clutter so you get the best of both worlds all under one roof? 
Next, think about how often you'll be using the log cabin throughout the year and seasons. Do you expect it to be a warmer-weather retreat or is it somewhere to be used all year round? This will influence the thickness of the cladding you may go for and whether or not you require additional insulation. This also may influence the thickness of the window glazing you go for. The thicker the glazing, the better the heat retention of the building. 
After this, how many doors and windows will provide you with the perfect amount of accessibility and natural light? You can opt for privacy sized windows, half length windows and full length windows. Privacy windows are perfect for storage rooms and letting light in, whilst keeping your belongings safely out of easy view. Full-length windows are perfect for entertaining areas, providing the maximum amount of natural light, while encouraging the view out to the garden, giving the illusion of additional space.
Before you know it, you'll have created the perfect space for you and your requirements. So contact us today to take the first step of owning your bespoke log cabin.