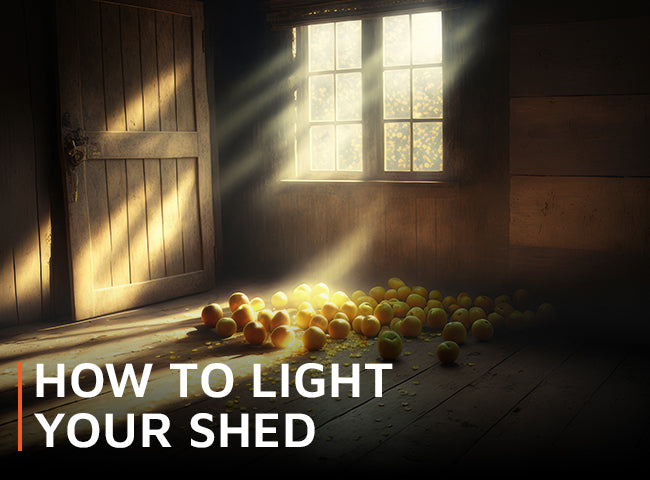 Discover what the experts say about the best ways to light your shed. Looking for bright light for craft work, mood lighting for your man-cave or she-shed, or simply need a light to see your tools by?
We show you how to calculate how much light you need, and lay out your options to help you choose the right lighting solution.
At a glance:
Assess your natural light – windows and shed aspect
Find out how much light you need in your shed
Installing solar lighting
12v lighting systems
240v lighting
1. Assess your natural light
Because the sun rises in the East, passes through South and sets in the West, some gardens get a lot more light than others which has implications for how you site your shed, and the number and location of the windows you install.
If your patch gets a lot of direct sunlight, you might want to choose an aspect for your shed that avoids some of the light – sheds can get very hot inside during the day. Also consider installing blinds to give you some shade on brighter days.
A north-facing site means you need plenty of windows. Consider adding translucent panels, or skylights to the roof, to boost the amount of natural light in your shed.
2. How much artificial light do you need?
Next time you're at the supermarket or DIY store, take a trip down the lighting aisle. Pick up a light bulb and take a look at the packaging. Alongside the wattage, and cap design information, you'll also see a figure quoted in lumens (lm) – this is how much light the bulb emits.
Another measurement – lux – is the amount of light provided by one lumen over one square metre.
Have a look at the table below to see how many lux you need to light your space. Take that figure and multiply it by the area to be lit. If your shed measures 5m x 2m = 10m2,  and requires 300 lux to light it, you multiply 300 by 10 to give a figure of 3,000 lumens.
Use this figure to calculate the number of bulbs you'll need. The table below gives a rough guide to the amount of lumens needed for any given task, and it's well worth doing further research for your specific requirements.
| | |
| --- | --- |
| Context | Lux |
| Direct Sunlight | 120,000 |
| Daylight (outside, shaded) | 20,000 |
| Full moon with clear sky | 1 |
| Desk lighting (working at PC) | 300-500 |
| Sewing/ crafting | 750-1,000 |
| Garage/Workshop | 500-750 |
| Small, detailed tasks | 1,500-2,000 |
| Store room | 100-150 |
| Reading area | 300-500 |
| Leisure space (TV, socialising) | 200-400 |
| This table is an approximate guide only | |
3. Solar lighting
Cheap, efficient and environmentally friendly, solar panels are revolutionising the way we light and power our homes – and garden sheds. From stand alone units you can use to light the path to your shed, to lighting kits which enable you to run 240V tools and equipment. Solar power is a big subject, but if you're interested in running your lights and power this way, here are the basics:
The best way to install solar power to light your shed is to invest in a solar power kit. Available from good solar retailers, a kit supplies all you need to safely collect and store energy from the sun's rays.
You don't need to generate much power to run a couple of LED lights so you can see what you're doing when you put your tools away – an off-the-shelf kit will do the trick. For more complex systems, you'll need help from the professionals.  
Based on the aspect of your shed, the pitch of the roof, the number of lights and the type of equipment you plan to use, a solar panel supplier will tell you the spec of the kit and the size of the solar panel required to generate enough power for your needs.
4. 12V lighting
Basic solar systems feed into a 12V deep-cycle leisure battery which uses direct current (DC) to power your lights. The options for 12V lighting used to be fairly limited, but with the advent of LED systems, there's now a lot to choose from.
Incandescent bulbs – traditional 12V lights cast a warming yellow light but they don't last anywhere near as long as LEDs and they're less efficient too, an important consideration when running lights from a solar powered system.
12V flourescent striplighting – An effective solution but all fluorescent bulbs flicker, which if you're doing close work, can cause eye strain.
LEDs  – long lasting and energy efficient, LED lighting is available in a huge range of colours, tones and formats from round bulbs to striplights and spots.
LED systems tend to be highly directional. If you're planning to use your shed as a workshop, you can avoid irritating shadows which may obscure your work by increasing the number of bulbs you use, and by careful positioning of light sources.
5. 240V lighting
By installing mains power to your shed, you can apply all the lighting options that you'd employ in the home, to your shed. If you're running off solar power, you can do the same by installing an inverter to convert the 12V DC current from your battery bank to 240V AC power to run laptops, tools and lighting.

Fluorescent – Striplighting and energy-saving bulbs are excellent general lighting solutions for sheds and workshops. For close work, you'll need to use an alternative light source to overcome the flicker these produce.
LED – Bright and efficient but can cause deep shadows which may be a distraction when you're working. As with 12V LEDs you can overcome this, by careful siting, using more bulbs, and bulbs designed to emit a softer light.
Lamps – From anglepoise to standing lamps and table lamps, moveable lighting offers the most flexibility.
Halogen – Powerful lights, which also provide a potential heat source.
A well lit shed gives you a space you'll be able to use for a wide variety of tasks during the day and into the evening – especially if you also invest in insulation and heating.
Lead image: rygudguy/pixabay