If you're looking for a garden building to turn into a home office, a log cabin is a great option to consider. Quick and easy to build, they add space to your home without breaking the bank.
Here's our review of the different types of garden buildings available, so when it comes to moving in, you'll have the ideal work space for your needs.
Getting started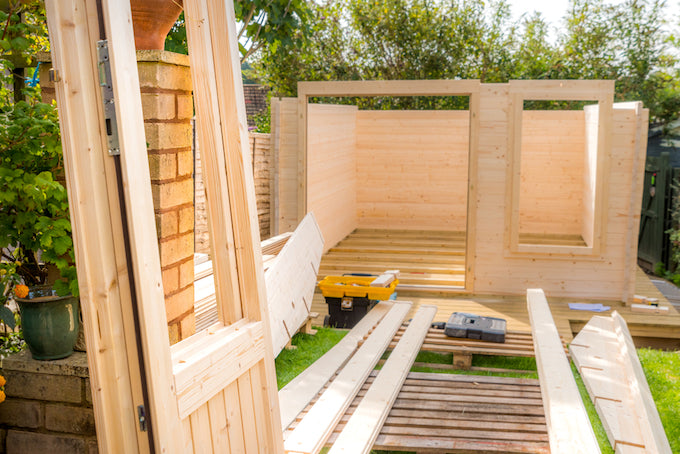 Before you decide which log cabin is suitable, map out your garden size and working needs. Know your budget too, as hidden costs for jobs like groundwork and electricity installation may sway your decision.
There are a few things to take into consideration when buying a log cabin, such as timber thickness and glazing options. These will affect how warm your cabin will be if you want to work in your new home office all year round. 28mm logs are fine if you plan only to use your building on summer days, 34mm is suitable for summer evenings and spring/autumn days, and 44mm is ideal for year-round use. Invest in double-glazing for extra insulation. For further advice on all of these options, check out Waltons' ultimate guide to buying a log cabin.
Waltons log cabins come with EN certified Safety Glass and an anti-rot guarantee as standard. Take your time when thinking about the type of space and environment you need to work comfortably. If budget allows, go for the biggest log cabin you can afford to be sure you won't grow out of it in the future.
Small home offices

If budget and space are tight, a Mini Log Cabin is ideal
Featured: 2.5m x 2m Mini Log Cabin Studio
The smallest log cabin in the Walton's range is the Mini Log Cabin studio, at 2.5 x 2 metres. It's the perfect way to add extra space to your home if you have a tighter budget, or for those who prefer a cosier space to work in.
Sunny south-facing position? The Mini Log Cabin with Veranda is perfect for adding a little shade to your workspace on hot summer days.
Medium home offices
Need a little more space? The optimum medium-sized home office can be found in our 4mx3m log cabin range. If you need to house two desks and have an average sized garden, there are several styles available.

Full of character, the Executive Log Cabin (above) or the Bridgeford Cabin have buckets of rustic charm and look great in any style of garden. Or, for panoramic garden views, our handsome Home Office Director Cabin features large windows for a light and airy workspace. Choose from 28mm, 34mm or 44mm interlocking timber logs, and decide whether you require single or double glazing.
Large home offices

Aptly named, the 'Executive Plus' is the perfect place to run your small business
Featured: 6m x 5m Home Office Executive Plus Log Cabin
For a large home office, take a look at the buildings in our 5mx3m log cabin range. Our largest log cabin is the spacious 6m x 5m Home Office Executive Plus (featured above). Constructed from 44mm logs and with large, double glazed windows, this is the ideal building for all year round use. A modular design, the cabin can be arranged with the doors on the right or left to suit the layout of your garden.
If you prefer something more modern, our Contemporary Home Office has a spacious interior. Four long glazed windows give the building a striking appearance and create a light and bright working environment. It comes with strong 34mm interlocking tongue-and-groove cladding. Should you require, you can upgrade to double glazing and 44mm thick cladding, improving the insulation for warmth and noise.
Log cabins with verandas
Traditional log cabins are extremely hard-wearing. Thanks to their strong, interlocking 19mm tongue-and-groove cladding, you can rest assured that they'll stand up to all types of weather.
This cabin features a large window and a set of double glazed doors to the front, allowing for plenty of natural light. And with the outdoor veranda area offering additional shelter and shade, this is a great place to stay cool while you work. A traditional apex roof provides plenty of headroom and a real sense of space for those who require plenty of storage or want to set up multiple workstations.
Work in a corner log cabin
If you want a home office that doesn't encroach upon your garden too much, corner log cabins are one of our most popular styles. Designed to fit neatly into any corner, these handsome buildings make excellent use of space.

Corner cabins from Waltons have a contemporary edge and lots of glazing. Strong, attractive and built to last, they make a comfortable place to work whilst connecting with the outdoor space and enjoying the view.
Offices in Insulated Garden Rooms
If you're not constrained by budget, an Insulated Garden Room is the Rolls Royce solution.
Supplied with fully insulated roofs and floors, large double-glazed windows and thick 72mm cladding - this is the perfect home office for all year round use. You could even add a sofa bed for occasional guests.
Free delivery and installation is included as standard on all Waltons insulated garden rooms, making this option very simple to set up.
Using a log cabin for your home office is an excellent way to reduce commute times and establish a better work-life balance. If you're starting a business in a log cabin, let us know over on our Facebook Page - we'd love to hear all about it and see your new premises!
Lead image: Shutterstock
---
You may also like
---